Customer Feedback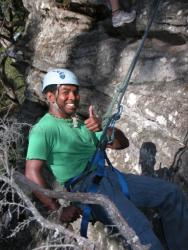 Dear Noel,
I thought I would take the time to thank you for the program you organised for us during our time at Halls Gap. We were really thrilled and everyone commented on how good your guides were - Anthony, Stu and Kirsten (I think). They were really terrific from my perspective as they were very helpful and encouraging to everyone and also patient which is a definite virtue in their positions. Thanks also for the wonderful photos although I would have liked it better if you had altered mine to make me look slimmer.

Thanks again
Mary Richards,
Kirrae Health Service.
Millicent High School,
Karen Stocklee.
Rock Climbing, Abseiling, Mountain Bike and Bush Walking
Thanks Noel, it just gets better every year.
Managatang Secondary College, year 9 & 10,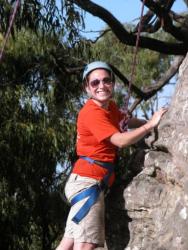 Sarah Smith.
Rock Climbing and Environmental Studies.
For first timers it was challenging for all of us. However, with positive encouragement from your skilled guides we had a fantastic time.
Mortlake College,
Andrew Bennett.
Rock Climbing and Abseiling.
Well done guys fantastic and excellent leadership and climbing skills.
Nhill Secondary School, Activities for year 9 & 10,
John Scott.
Rock Climbing, Abseiling, Mountain Bike and Bush Walking.
Thanks for a totally enjoyable camp, your guides made all of us feel welcome and led the students through the activities with positive attitude and total support. Thanks.
Bayview College, Andy Murrell,
Abseiling.
An excellent day full of challenges and rewards for the entire group.
Gilmore College for Girls,
Fiona Jarmen.
Rock Climbing, Abseiling and Environment Activities.
A well planned and executed camp. Everyone participated and gained a well-rounded experience. Highly recommended.
Mentone Girls Secondary College, Yr 9 & 10,
Emma Morris.
Rock Climbing.
The day was very rewarding day for all the girls. The confidence they gained was remarkable!