3 Day Walk
GRAMPIANS WILDERNESS WALK ITINERARY 7
Wonderland Range and the Bundaleer.
A fully serviced, 3-day base-camp trek which includes some of the best views available of the Grampians National Park. The walk is courtesy vehicle based, so after a day's walking we will rendezvous at a base camp, where bush cuisine and refreshments are standard fare.
Grade: 3 Medium
Cost: $945 per participant
Join Grampians Personalised Tours & Adventures on a unique walking experience in the Wonderland Range and the Bundaleer.Discover spectacular landscapes and the rugged scenery intermingled with hidden valleys and waterfalls. Encounter widespread flora habitats and a diverse wildflower understorey. Delight in a chance meeting with native fauna rarely seen outside the national park.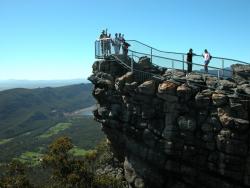 DAY 1
From our secluded camp site at base of Mt Rosea we explore an enchanting Tree Fern cluttered creek climbing through Tall Stringybark Forests to Sundial Peak. Spectacular views are had over the Grampians before returning to the Rosea campground via hill 767.
Vehicle time 0.5 hour
Day walking time 4 + hours
Total walking distance 7 km
DAY 2
We explore the fascinating Wonderland Range. The Wonderland Range is amazing, with the Grand Canyon, Silent Street and the famous Pinnacle Lookout and rock formations sculptured in the most unbelievable shapes.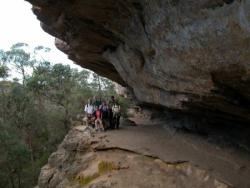 Day walking time 7 + hours
Total walking distance 10 km
Night walking time 1.5 hours
DAY 3
We follow Stony Creek Track to the Bundaleer passing Stony Peak. We discover a fascinating series of wind-etched caves as we ascend the Wall of China to obtain the vast views to Tower Hill and the picturesque Victoria Valley. We then return to the Rosea Camp site .
Vehicle travel .5 hours
Day walking time 4 + hours
Total walking distance 7 km
WE PROVIDE
Professional guiding service
Tents
Cooking facilities
Bush cuisine and refreshments (all food)
Level 2 First Aid
Extensive local knowledge of the Grampians National Park
WHAT TO BRING
On day one we will meet at our Halls Gap office around 9am. We then drive your cars to the Rosea Camp site. So bring your airbeds, folding chairs and any other equipment/goodies you consider necessary to make your stay at the camp as comfortable as possible.
Conditions can deteriorate at any time so be prepared!
Your personal bush walking needs are:
Day Backpack - min - 40 litres
Walking boots - strong with good ankle support
Suitable long walking pants and or shorts
2 Long sleeved collared shirts
Woollen mix socks - several pairs
1 all conditions jacket (Gortex/Japara)
Sun hat
Woolen gloves or mittens - optional
Sunscreen
Repellent
Whistle (for emergencies)
Pocketknife - optional
Camera and rolls of film - essential!
AROUND THE CAMP:
Sandshoes
Air bed and pump
Sleeping bag - 3 season rating
Folding chair
Tracksuit
Toiletries (towel, soap etc)
Tee shirts
Torch
GRAMPIANS PERSONALISED TOURS AND ADVENTURES reserves the right to make any changes to trip routes and itineraries, without notice, due to local weather conditions, track access and or unforeseen circumstances.
If you would like more information about our 3 Day Walk, please fill in the form below and our staff will respond as soon as possible.
Alternative Contact details
Phone: 03 5356 4654
Booking Office:
Main Street, Halls Gap
[ inside newsagencey ]
Postal Address:
PO Box 68,
Halls Gap, Victoria,
3381, Australia