Grampians Peak Trail
TWO DAY GRAMPIANS PEAK TRAIL
Fully serviced, 2-day wilderness walk exploring the Grampians Peak Trail.
COST: $699 PER PERSON
Group rates negotiable.
Grade: 4 Medium
Join Grampians Personalised Tours & Adventures on a unique walking experience to experience delightful landscapes and rugged scenery. Discover spectacular hidden valleys, waterfalls and vast forests with diverse wildflower understoreys. Delight in a chance meeting with native fauna rarely seen outside the national park.
NB. Some areas on this trek are considered as a sub - alpine environment, therefore the weather can be unpredictable. So please be prepared!
DAY 1
Commencing from Halls Gap we follow Stoney creek into the Wonderlane range and on to the Pinnacle. After lunch we continue on to overnight at the Mt Rosea Camp site.
Vehicle time .5 hours
Day walking time 7+ hours
Total walking distance 12 km
DAY 2
Our day 2 adventure begins as we pass through stringybark forest and assend the northern slope of Mt Rosea. We continue climbing through rocky woodlands and on the the summit of Mt Roasea for lunch. We then desend into Fyans Valley and on to the Borough Huts to meet up with our transport back to Halls Gap.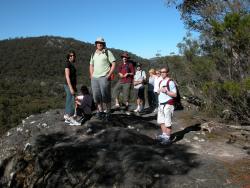 Vehicle travel .5 hour
Day walking time 8 hours
Total walking distance 12+ km
The Grampians Bushwalking company provides:
Professional guiding service
Tents
Cooking facilities
Level 2 First Aid
Extensive knowledge of local flora and fauna
What to bring:
Your personal bush walking needs are:
Day Backpack
Sleeping bag - 3 season rating
Therma rest sleeping mattress
Walking boots - strong with good ankle support
Suitable long walking pants and or shorts
Japara
2 Long sleeved collared shirts
Woollen mix socks - several pairs
1 all conditions jacket
Hat
Woollen gloves or mittens - ?optional'
Sunscreen
Repellent
Whistle
Pocket knife - optional
Camera - essential!
Around the camp:
Sandshoes
Tracksuit
Toiletries
Tee shirts
Torch
THE GRAMPIANS BUSHWALKING COMPANY reserves the right to make any changes to trip routes and itineraries, without notice, due to local weather conditions, track access and or unforeseen circumstances.
If you would like more information about our Grampians Peak Trail, please fill in the form below and our staff will respond as soon as possible.
Alternative Contact details
Phone: 03 5356 4654
Booking Office:
Main Street, Halls Gap
[ inside newsagencey ]
Postal Address:
PO Box 68,
Halls Gap, Victoria,
3381, Australia


Bushwalks
2 Day Grampians Peak Trail Walk