The Grampians National Park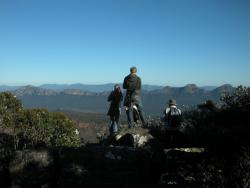 The Grampians National Park is Victoria's forth largest and by far the most diverse of the 34 National Parks. It's colorful displays of wildflowers and spectacular scenery offers a wide range of outdoor recreation activities and is one of the Victoria's most popular tourist destinations.
At 167,219 hectares, it covers from River Red Gum Wetlands to Sub-alpine communities as Mt William at 1167 meters. With over 900 native woody plants which represents more than 25 per cent of the State's flora.
Heritage
Aboriginal occupation of the Grampians dates back beyond 20000 years and the area contains the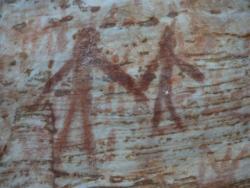 majority of Aboriginal rock art sites in southeast Australia.
NSW Surveyor-General Sir Thomas Mitchell named the ranges after mountains in his native Scotland in 1836. As European settlement spread, the Grampians became and remain, due to schemes like the Wimmera water supply system, a vital source of water for farming and domestic purposes in a large part of north-western Victoria.
The Grampian's rich and diverse post settlement history also included timber production cut for mines and farms, gold mining and quarrying, of which the Heatherlie Quarry is a great example.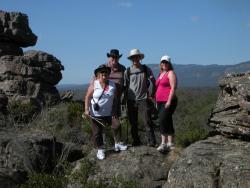 Halls Gap
Halls Gap in the heart of the Grampians has a wide range of accommodation from backpacker hostels to five star boutiques.
Looking After the Park
Firearms are not permitted.
When driving, keep to roads open to public vehicles. (Some roads are closed in winter or after heavy rain.) Walkers should keep to marked tracks.
Light fires only in fireplaces provided, or better still take a gas or fuel stove to protect fauna habitats.
Take your rubbish home and where possible recycle.
Please do not feed native wildlife, especially kangaroos. It is bad for them and can be dangerous to visitors.
Please don't disturb or remove any plants or animals.
Precautions
If you are planning an extended walk, tell someone where you are going and when you aim to be back.
Carry appropriate gear, food and water.
Take care at lookouts above cliffs and steep slopes.
How to Get There
The 260 km drive from Melbourne along the Western or Glenelg Highways takes about 3.5 hours. There are approaches to Halls Gap (Vic Roads Touring Guide 56-A4) via Stawell, Horsham, or Dunkeld.
NB: Dogs and other pets are not allowed except in vehicles on sealed roads and in sealed car parks.