Classic Highlights Tour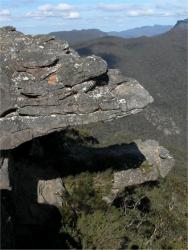 Experience the Grampians National Park's iconic views and waterfalls with our local ECO guide.
A unique walk and drive tour introducing you to the Grampians most popular destinations plus some spectacular 'off road' views and hidden valleys. Discover spectacular natural attractions as Silverband Falls, the Balconies and MacKenzie Falls walks while enjoying the Parks extensive wildflowers & wild life.
Discover Spectacular Natural Highlights
Elephants Hide
The Balconies walk (Jaws of Death)
Victoria Valley
Lunch at Zumsteins (Historic site)
MacKenzie Falls walks (The biggest)
Old Mill Road 4WD (Smiths Mill)
Boroka Lookout (Best views over Halls Gap)
Silverband Falls (The one that disappears)
Morning & afternoon tea included
NB: Bookings are essential
Cost: Full day $149. Half day $79
Important Facts
Lunch included on full day tour
Maximum of six clients per vehicle
Half day: departs 8.30 AM or 1 PM
Full day: departs 9 AM
Pick up from your Halls Gap Accommodation
NB: International guest please note we operate from Halls Gap in the Grampians and do not pick up in Melbourne.
If you would like more information about our Classic Highlights Tour, please fill in the form below and our staff will respond as soon as possible.
Alternative Contact details
Phone: 03 5356 4654
Booking Office:
Main Street, Halls Gap
[ inside newsagencey ]
Postal Address:
PO Box 68,
Halls Gap, Victoria,
3381, Australia