Activities and Adventure
Grampians Personalised Tours and Adventures is a locally based company dedicated to providing a complete ECO adventure experience in one of the most beautiful environments in the world. After all lets not forget why you're here - the Grampians National Park.
Adventure activities as rock climbing, abseiling, caneoing, mountain biking and bush walking are rewarding activities for students. All of our outdoor programs are run by qualified ECO professionals committed to your safety and satisfaction!
Educational Values:
Getting out into the bush is a great educational experience.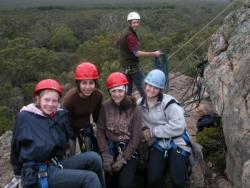 Learning to respect our environment and each other is a vital part of our programs.
You can experience a night walk and learn about Australia's amazing nocturnal wildlife or give your students a taste of responsibility as they help their fellow students navigate a rockclimb.
Body mechanics and teamwork are also learnt when participating in our activities, while presenting students with a fun-filled challenge.
Emotional Development:
We can help your students flourish in an encouraging environment.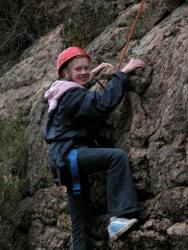 Bonding and team building are natural extensions of the Grampians Personalised Tours and Adventures experience. Self-achievement and self-worth are also predominant goals of our programs. Ultimately your students will come away respecting others as well as themselves.
Safety:
All of our activities adhere to Australian Adventure Activity Standards and our friendly guides and instructors hold current qualifications in their relevant fields as well as first-aid training. They are there to ensure the upmost safety of your students. Standard operating procedures are tailored to each individual activity and site. Where safety is concerned we believe in attention to detail.
Rock Climbing:
Rock-climbing is a spectacular sport that has as many rewards as challenges. Children of all ages are especially good at climbing.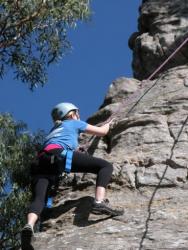 We all have a natural ability to climb. Not only is climbing fun it can also instill a great sense of achievement. Climbing can also serve as a great equalizer of the sexes. Girls and boys alike have equal ability to excel in the sport, as the need for upper body strength is not as important as people might think.
Operates: All year

Bookings essential

Minimum numbers apply on all activities
NB: Routes and itineraries subject to chance without notice by Grampians Personalised Tours & Adventures.
If you would like more information about our Activities and Adventure, please fill in the form below and our staff will respond as soon as possible.
Alternative Contact details
Phone: 03 5356 4654
Booking Office:
Main Street, Halls Gap
[ inside newsagencey ]
Postal Address:
PO Box 68,
Halls Gap, Victoria,
3381, Australia